50 of the Greatest Moments in Sports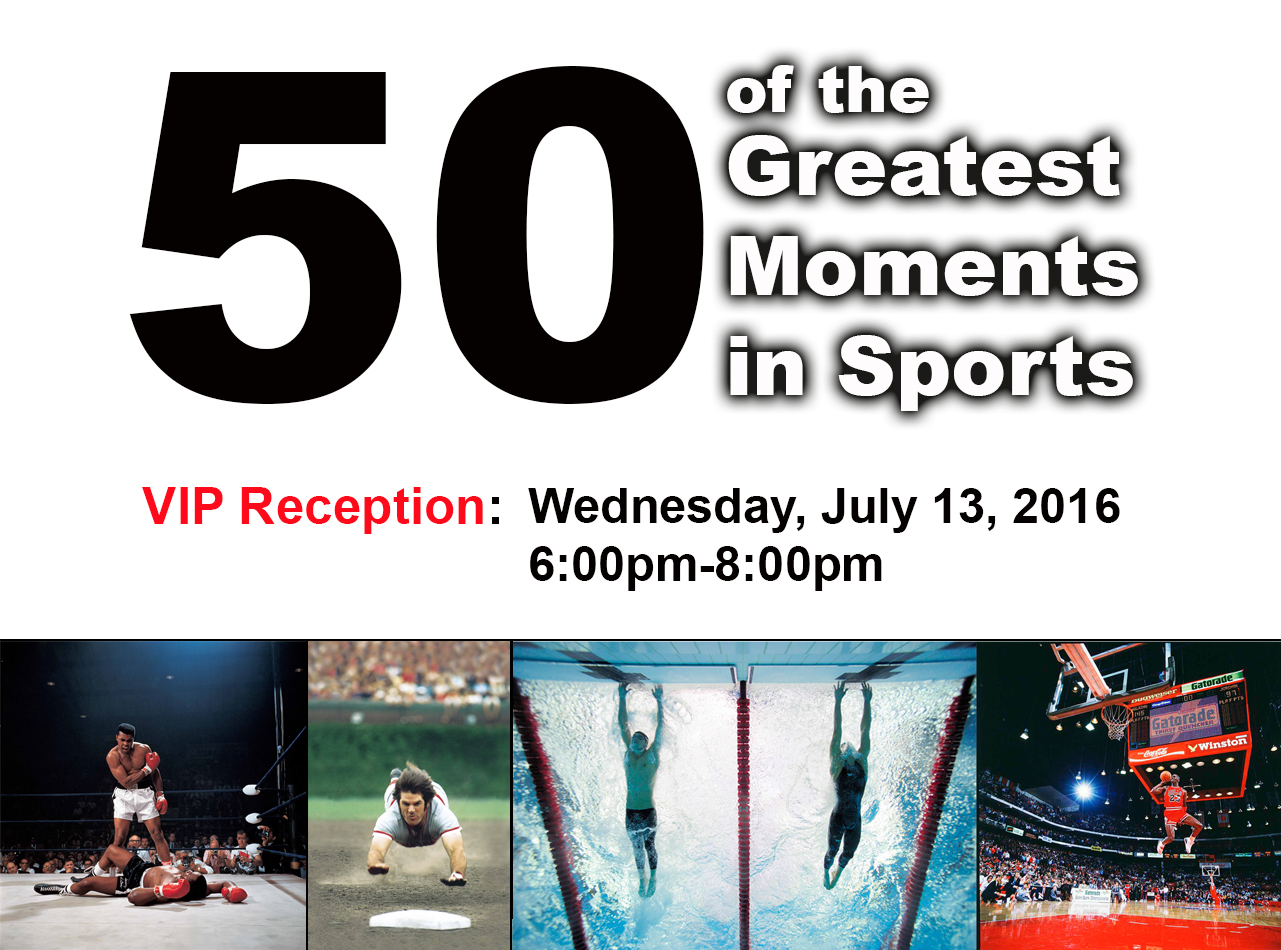 In July,
Soho Contemporary Art
(
259 Bowery
) in partnership with
Sports Illustrated
is proud to present
50 of the Greatest Moments in Sports
, a special photography show featuring a range of legendary athletes & public figures in a selection of truly memorable photographic moments from sports history that the public can own. Some highlights include numerous
photos of Muhammad Ali
including Muhammad Ali knocking out Sonny Liston and the famous aerial view of Ali knocking down Cleveland Williams.
Some of the featured sporting events include:
The Superbowl, The Olympics, The World Series, NBA Playoffs
&
NBA All-Star Games, The Stanley Cup Finals, The World Cup, The Masters
and
The Belmont Stakes
and included in this show are iconic images of
Muhammad Ali
,
Lebron James, Michael Jordan, Mickey Mantle & Yogi Berra, Jackie Robinson, Arnold Palmer
,
Jack Nicklaus,
Olympic Gold Medalists
Michael Phelps & Kerri Strug
,
Vince Lombardi, Joe Montana, Joe Namath
& more; the 50 magnificent pieces of art & sports photography showcase a diverse and exciting history of athletic accomplishment & artistry.
With wide-angle shots, close-up shots, action shots, editorial photos & one under water capture shot, it's an impressive variety of photographs that highlight over 10 different competitive sports. The photos range in price from $1,000-$15,000 and the years being depicted are 1958-2008.
Official Opening Night is Wed. July 13 with a VIP Invite-Only Reception.
The list of athletes being featured is (in alphabetical order)
:
Muhammad Ali, Alan Ameche, Chuck Bednarik, Yogi Berra, Larry Bird, Kobe Bryant, Wilt Chamberlain, Brandi Chastain, Roberto Clemente, Julius Erving, John Havlicek, Lebron James, Derek Jeter, Magic Johnson, Michael Jordan, Mickey Mantle, Mark Messier, Phil Mickelson, Joe Montana, Joe Namath, Jack Nicklaus, Arnold Palmer, Michael Phelps, Pete Rose, Kerri Strug & Lynn Swann
. Additionally featured are
Football Coaches
Vince Lombardi & Paul "Bear" Bryant
,
Secretariat
and
President
John F. Kennedy
.
The photographers whose work is being showcased are
:
Robert Beck, James Drake, Walter Iooss, Jr., Mark Kauffman, Heinz Kluetmeier, David Klutho, Neil Leifer, John McDonough, Richard Mackson, Hy Peskin, Damian Strohmeyer, Al Tielmans, Tony Triolo, Fred Vuich
&
John Zimmerman.